Retriever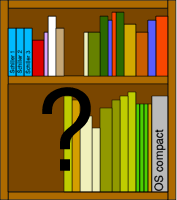 Retriever is a program written for the computer operating system RISC OS and has nothing to do with programs for other computer operating systems which possibily are carrying similar names!
Retriever is a program that helps you to find documents containing desired terms or fulfilling other criteria quickly.
To be able to do so Retriever must first analyse the documents it is to search which may take a while. The kind of a document is determined by its type (this means RISC OS file type). For each type of document a certain so called parser is required which parses the document, extracts parts out of it and passes these parts which are called elements to one or more so called archivers which note the occurrence of such an element for a document inside an internal database. Elements are of a certain type. Every parser can handle one or more RISC OS file types and every archiver can cope with one or more element types. Parsers are allowed to extract documents out of documents. These subdocuments are also analysed by Retriever in case that an according parser is available. The content of the subdocuments is logically assigned to the document out of which it was extracted.
After documents have been analysed you are able to search for the documents by entering search criteria. All entered criteria must be fulfilled by a document so that it is shown inside the result list. There is a separate input mask for every element type to enter the desired criteria. The desired criteria are passed internally to the archivers which are trying to find the related documents. The result list is a HTML-document which shows a list of the documents fulfilling all of the requested criteria.
Retriever has been tested successfully using different RISC OS 5.2X versions on following computers:
BeagleBoard xM
Iyonix pc
Raspberry Pi B
Raspberry Pi 2B
Raspberry Pi 3B+
Please gather more information about Retriever from the respective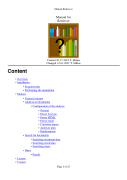 Manual (372 KB PDF)
or get a short overview by watching the 1024 x 768 5 3/4 minutes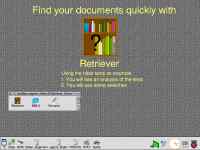 Video (49 MB MPEG-2 no sound).
Prices:
Type of license
Version
Country
Price
Included VAT
Single-Machine-License
0.03
Federal Republic of Germany
47.60 EUR
19%
Single-Machine-License
0.03
United Kingdom of Great Britain and Northern Ireland
48 EUR
20%
Distribution takes places by email. In case that you want to buy Retriever or test it in-depth free of charge by using a test license which is valid for 14 days or that you have questions about the availability of Retriever in other countries or that you have other questions about Retriever, please contact us by E-mail or by telephone.